Mobile application
Mobile application "Crayfish in the Czech Republic"
As part of the work on the loosely follow-up project "Predicting the hazards of non-native fish and crayfish", a mobile application (application for mobile phones) "Crayfish in the Czech Republic" was developed. The application is intended to anybody who is interested in our crayfish protection and serves mainly for recording and reporting the occurrence of crayfish in nature. The application also includes information necessary for identification of crayfish and general information such as basic information on crayfish protection, their distinctive features, basic terminology, etc. Application is currently available only in Czech language.
More information and a link to download the application: click here (link, page only in Czech language)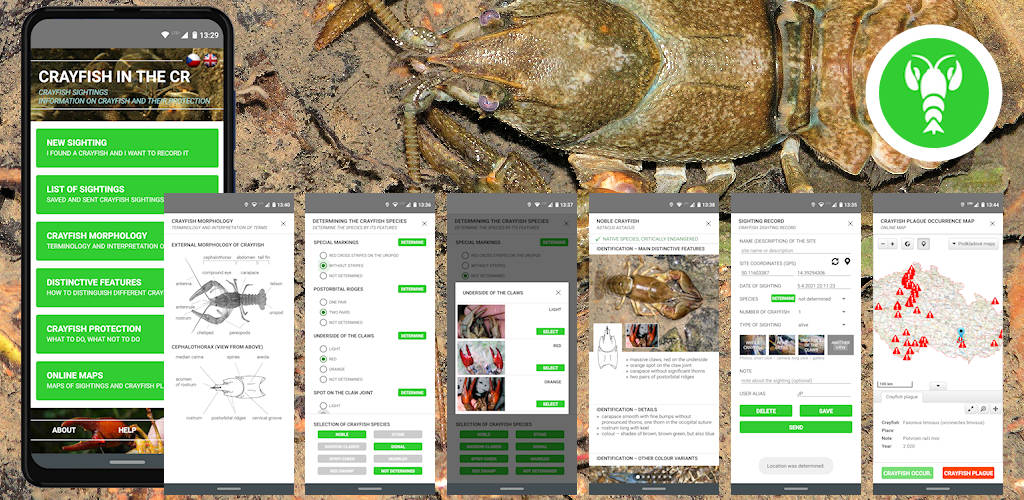 Last update: 24 August 2021
Contact
T. G. Masaryk Water Research Institute, p.r.i.
Podbabská 2582/30
160 00 Praha 6
Czech Republic
http://www.vuv.cz
Project leader
RNDr. Jitka Svobodová
jitka_svobodova@vuv.cz
Publicity manager
Ing. Jiří Picek
jiri_picek@vuv.cz
Project manager
Mgr. Libuše Opatřilová
libuse_opatrilova@vuv.cz
Financial manager
Karel Havlák
karel_havlak@vuv.cz
Technically provides
TGM WRI Hydroecological
Information System
(WRI HEIS)
http://heis.vuv.cz
© Copyright: T. G. Masaryk Water Research Institute, public research institution. Design: Jiří Picek. 2015-2019.